Prodotto /

Product

EN 649
Pavimento PVC Click /

Click PVC Floor

Composizione /

Composition

100% PVC Vergine /

100% virgin PVC

Costruzione /

Construction

Pavimento PVC eterogeneo con finitura di poliuretano in superficie


Heterogeneus PVC floor wight poliurethane surface finish

Tipologia produttiva /

Manufacturing process

Ad alta pressione /

High pressure

Certificazione CE /

CE Certification

EN 14041 : 2004
Reazione al fuoco /

Reaction to fire

EN 13501-1
Class Bfl-S1
Emissione di formaldeide /

Formaldehyde emission

EN 717-1
Class E1
Resistenza allo scivolamento /

Slip resistance

EN 13893
Class DS
Spessore totale /

Overall thickness

EN 428 (EN ISO 24346)
5,00 mm
Impronta residua /

Residual indentation

EN 433 (EN ISO 24343-1)
< 0,10 mm
Densità dello strato d'usura /

Density of wear layer

EN 436 (EN ISO 23996)
Valore medio 1.273 gr/cm³ /

Average value 1.273 gr/cm³

Stabilità dimensionale /

Dimensional stability

EN 434 (EN ISO 23999)
< 0,15%
Arricciatura al calore /

Curl resultant to heat

EN 434 (EN ISO 23999)
< 1 mm
Resistenza all'abrasione /

Wear resistence

EN 660-2
Gruppo T /

Group T

Resistenza alla sedia con rotelle /

Castor chair suitability

EN 425
Nessuna variazione della superficie* /

No change on surface

Comportamento elettrostatico /

Electrostatic propensity

EN 1815
< 2 Kv
Tenuta all'acqua /

Water resistance

EN 13553
Superata /

pass

Resistenza allo scivolamento /

Slip resistance

DIN 51130
R10
Stabilità dei colori alla luce /

Color fasteness to light

ISO 105-B02
Grado > 6 /

Grade > 6

Resistenza agli agenti chimici /

Chemical resistance

EN 423 (EN ISO 26987)
Nessuna variazione /

No change (Class. 0)

Riduzione acustica all'impatto /

Sound reduction

<5db, 22db con utilizzo di materassino, CL. IS 2


<5db, 22db using underfloor mat, CL. IS 2

Resistenza termica /

Thermal resistance

EN 12667
0,03 mq K/W
idoneo su riscaldamento a pavimento
temp. dell'acqua max 27° C
0,03 mq K/W
suitable for underfloor heating
water temp. max 27° C
Destinazione d'uso /

Performance classification

EN 685-43 (EN ISO 26986)
33 - 42
* Utilizzando ruote di tipo W in accordo EN 12529
By using castor TYPE W according EN 12529
Before laying, planks and tiles should be left at least 48/72 hours inside the premises where they are to be laid. The area should be appropriately acclimatized in advance.
The ideal laying temperature is between 18º and 25ºC (64.4 – 77ºF) and the floor should be about 15ºC (59ºF).
The GLAM floors are equipped with an interlocking system

, which ensures proper sealing.
Always start laying the floor from left to right. In this way, planks are installed with the tongue-side opposite the wall.
Use spacers to maintain a constant distance of 5/7mm. from the walls, in order to second the material natural movements and consent the planks to expand and contract. Place the entire first row of planks, and then place the second and subsequent rows one after the other.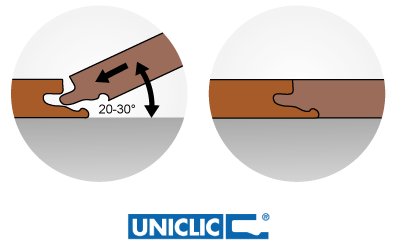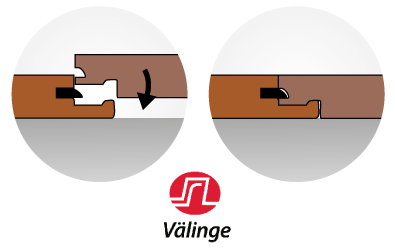 To continue with the following row, insert the plank in the longitudinal groove of the planks already laid (in the previous row), taking care to connect them making a rotation with a tilt of about 30 ° to fix it, then press on the short side until the head-tongue is locked. Once you are finished with the installation, remove all the spacers previously placed along the perimeter.
Expansion joints - For areas larger than 100 square meters or in rooms with a length / width more than 10 ml., you must install expansion joints to consent the floor to expand and contract without causing problems. S k irting boards or finishing edge profi les must not be fi xed to the floor. To ensure the best results, lay an underfloor mat for acoustic damping (minimum compressive strength of 50 kPa), to reduce the noise when walking. Direct solar radiation can cause expansion and twisting of the PVC flooring, especially when planks are installed with no glue. These effects can be easily avoided, by using blinds, curtains, (external and / or internal) selective glass or covering the glass-windows with special films that reduce the effect of infrared rays up to 98%. If necessary, add glue in close proximity to windows / French windows with direct sunlight.

We recommended to install Glam on an underfloor mat, in order to reduce noise and get high levels of comfort.
IsolDrum Mousse, IsolDrum LVT and LVT IsolDrum Plus – produced by Isolmant for its Gamma Parquet – are high technology mats, designed to satisfy even the most demanding requirements for sound insulation, durability and mechanical strength. The Isolmant Gamma Parquet mats have also high standard mechanical characteristics, which guarantee the surface resistance of the mat and its stability over time. These products keep high performance even when installed on floor heating system (for which you must ensure that Rt = 0.15 m2 K / W). (Rt=coating + insulating).
Maintenance of GLAM floor is easy. Observe a few simple rules as to place a grate or doormat at the entrance of the premises, to avoid that dirt can be introduced. Put protective pads under chairs, tables and furniture.
Do not use wax with solvents or vitrifying paint; do not use acetone, solvent or aggressive products.
In everyday cleaning:
use vacuum cleaner, broom, or electrostatic cloth to remove dust and dirt from the floor.
washing. Use a specific detergent diluted with water with a wet cloth mop or microfiber. We recommend the use of EMU-SF, a detergent specifically formulated for PVC floors, to clean and sanitize the floor.
let the floor dry before walking on it.
EMU-SF is an excellent detergent for professional use. It reduces the formation of dirt by creating a protective film, and adding to GLAM a natural brightness. Dilution: For normal cleaning, dilute 50 ml of EMU-SF per liter of water. For very dirty floors increase the dose of EMU-SF up to 150 ml per liter of water. Floor cleaning machines must be used at low speed.